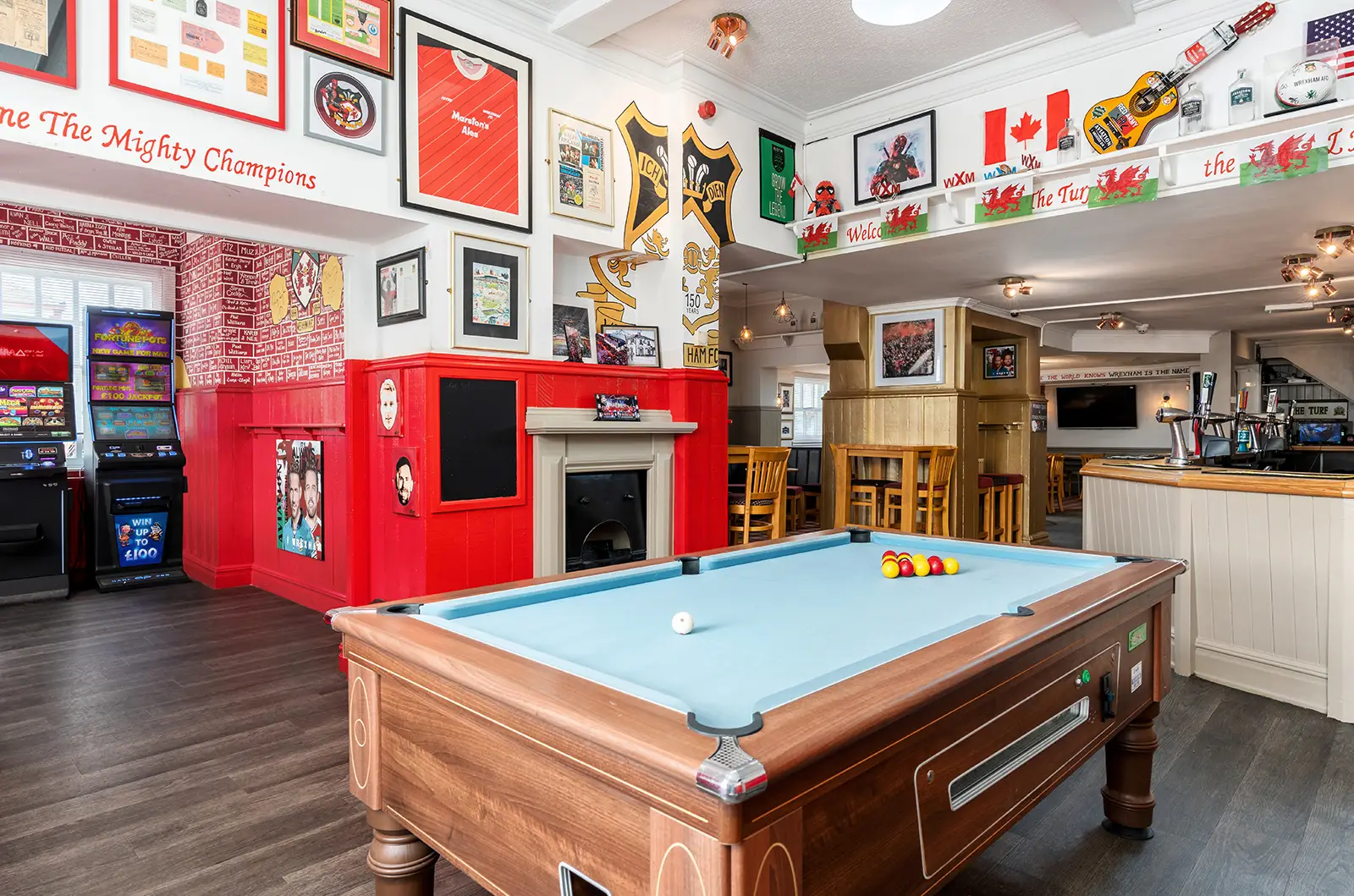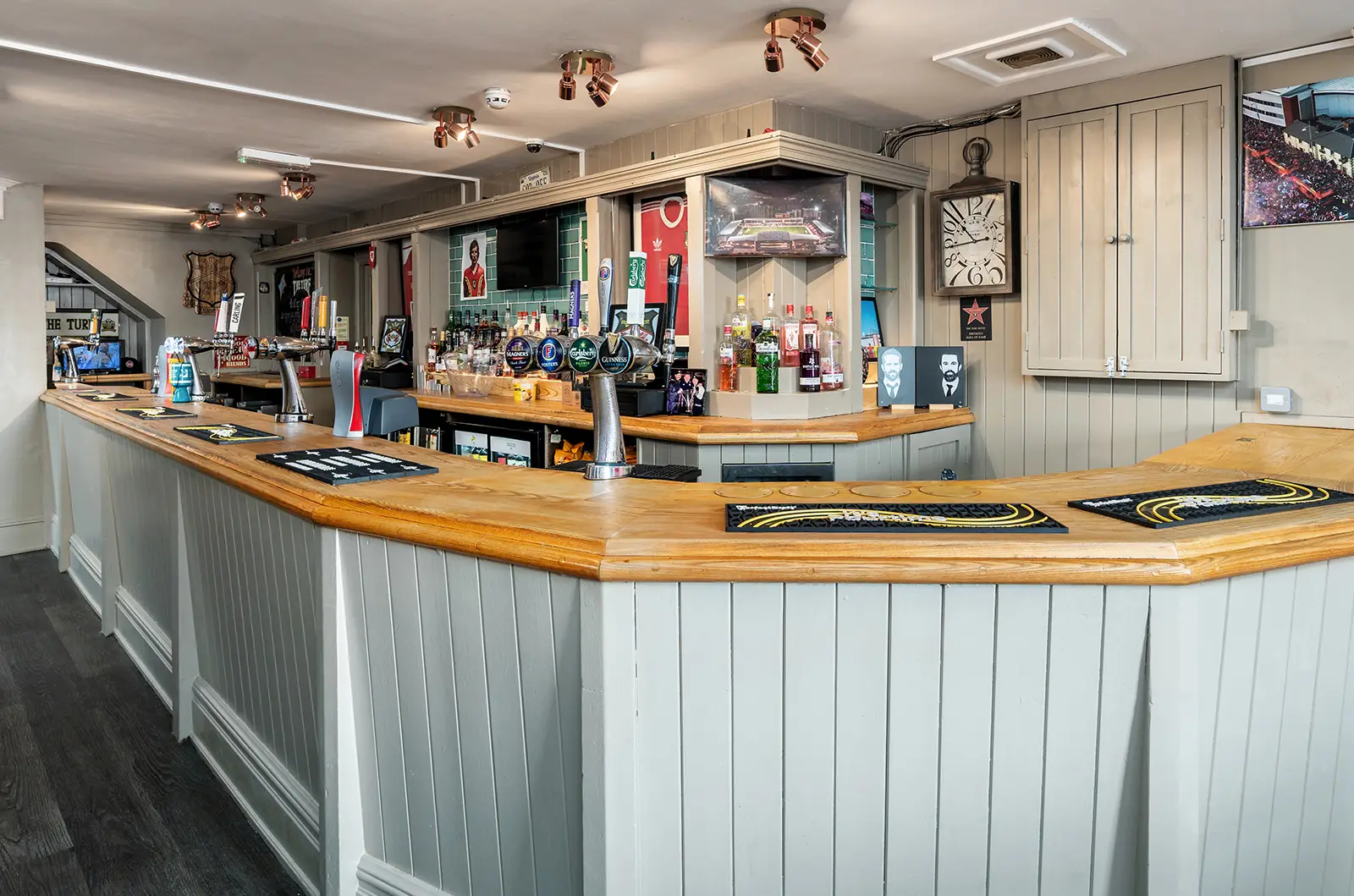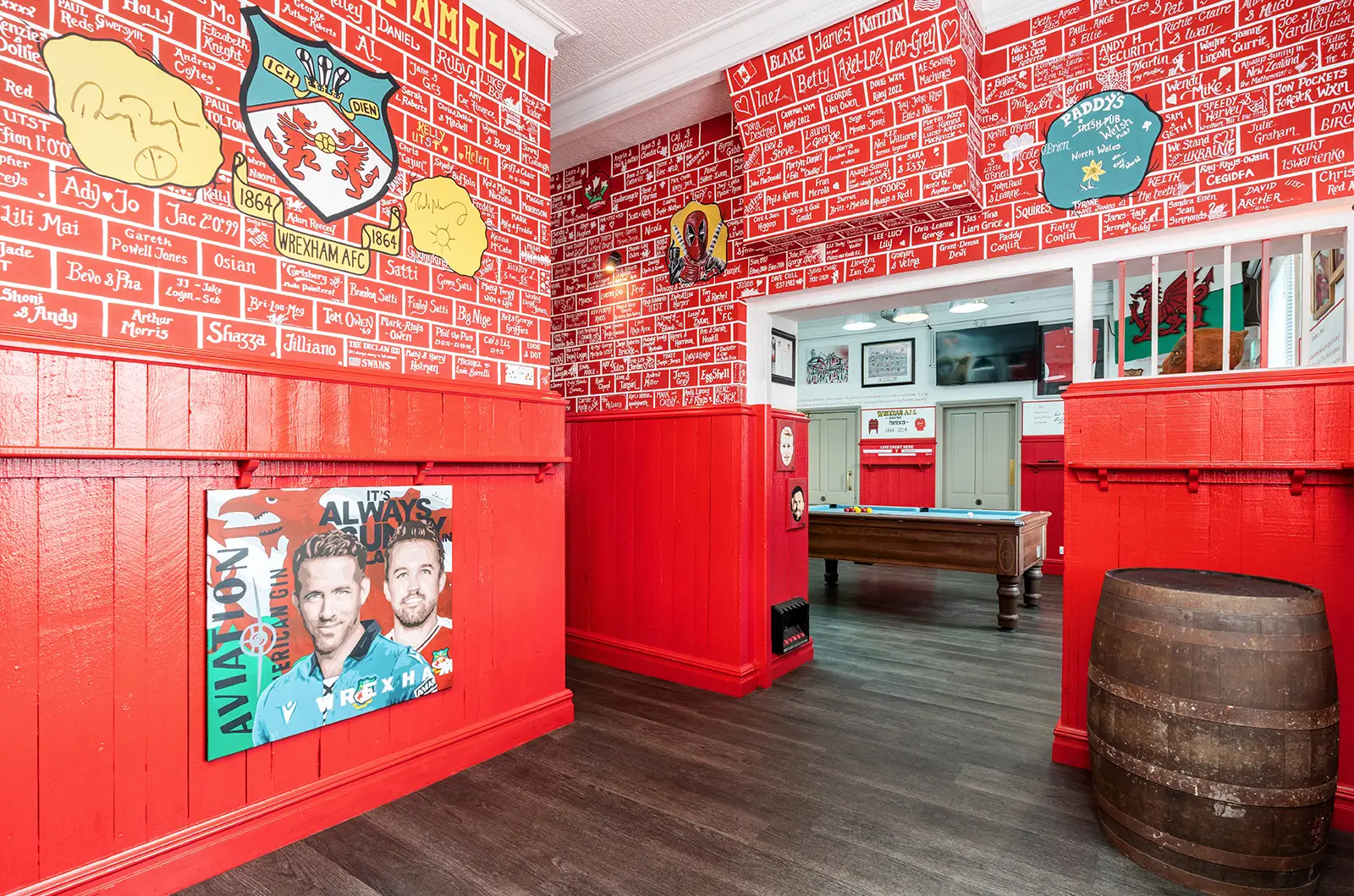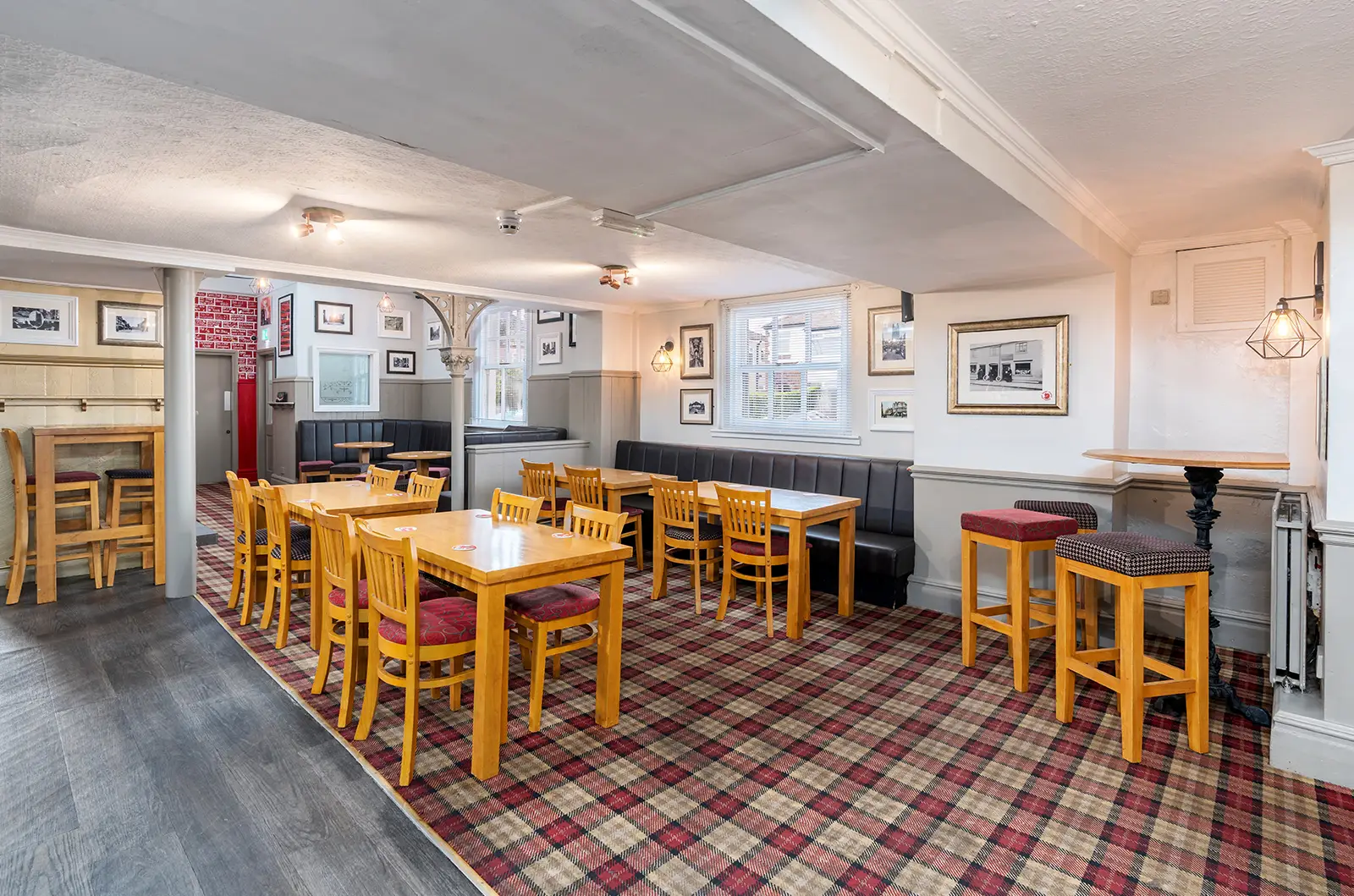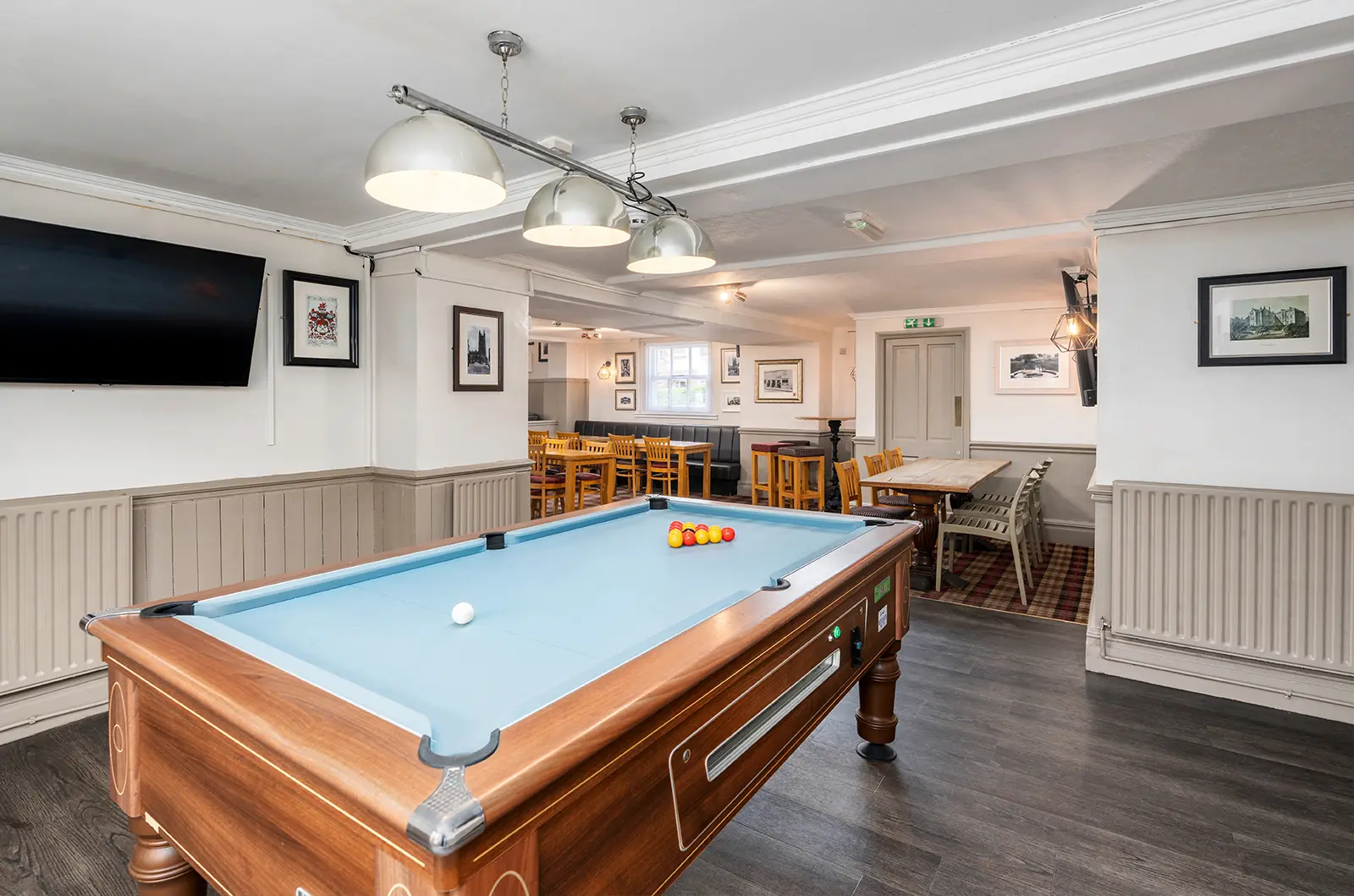 We're thrilled to have you join us at our lively and inviting pub, right next to the Racecourse Ground, the world's oldest international football stadium. We might be biased but we think our pub is the perfect place to unwind and relax with friends and family.
We're proud of our close relationship with Wrexham AFC and love to showcase their past and present achievements throughout the pub. Not to worry though; you'll receive a warm welcome, whether you're a local, a student, football fan, or a traveler passing through Wrexham.
If you're looking for entertainment, we've got you covered! We broadcast sporting events on TV's throughout the pub, host live music performances by local bands and have even had some famous faces stop by, including Hollywood royalty like Rob McElhenney, Ryan Reynolds, Will Ferrell, Paul Rudd, Joe Russo, and Adam Richman to shamelessly namedrop a few.
At The Turf, we're passionate about our commitment to the local community, and alongside our regulars, we like to celebrate the highs and offer a consoling word after the lows.
So, whether you're a die – hard Wrexham AFC fan, a local, or a tourist, The Turf is the perfect spot for you. Come visit us ! Enjoy a drink. Grab a bite to eat from the butty van and experience some warm Welsh hospitality firsthand!
Up The Turf!
What's
Coming Up!
Join us for unforgettable live events, where you can experience the magic for yourself, whether you're singing like Tom Jones, dancing like no-one's watching, or passionately cheering on Wrexham AFC as they chase victory on the field. Don't miss out – be a part of the live action.
Check out the lineup

Oh, have you not heard?
Welcome to Wrexham is an Emmy-nominated docuseries featuring two Hollywood blokes you might have heard of, Rob McElhenney and Ryan Reynolds, who've gone and bought our beloved Wrexham AFC – the third oldest professional football club in the world. The series is all about the hopes and dreams of our little town, as we try to turn our underdog team into a global sensation. It's been quite the journey so far and it's been an honour for The Turf to have been featured.
And, alright, we'll admit it – having these two famous chaps wandering around our town has been a bit of a laugh. They've been welcomed with open arms, but we're not above taking the mickey out of them every now and again. But in all seriousness, we're grateful for their investment in our community, and we can't wait to see where the next chapter of this journey takes us.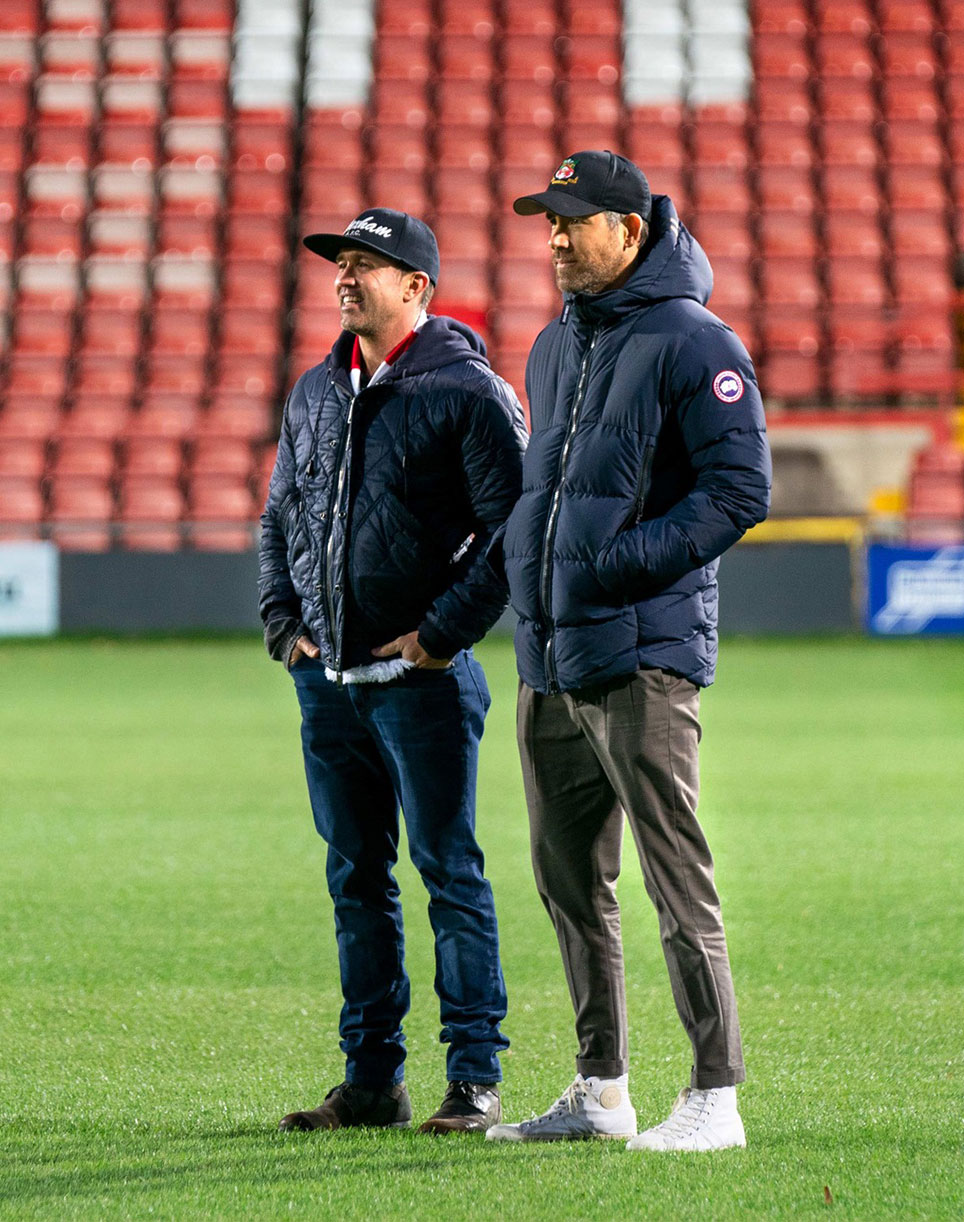 Welsh pubs are known for their exceptional selection of drinks, perfect for any occasion. Our well-stocked bar boasts a range of cask classics, as well as a constantly evolving selection that includes popular spirits such as Aviation Gin.
But that's not all – we also pride ourselves on our delicious food offerings. Whether you're a regular, a repeat diner, or a tourist, you won't go hungry. The Turf Butty Van serves up a variety of breakfast and dinner classics, from breakfast baps and beans on toast to hearty quarter pounders, succulent steak and chips, and flavorful minted lamb burgers. Our menu is sure to satisfy any appetite.
Real People,

Real

Thoughts
If you've seen the documentary Welcome to Wrexham, and have felt the pull to visit North Wales and the City of Wrexham to experience what the documentary is all about, then your first stop should be The Turf.
And, obviously if you've seen the documentary, then you know its landlord, Wayne Jones. He comes off as super likeable and if you are lucky enough to catch him behind the bar at the Pub or inside the food truck outside — try the Belly Buster and if you finish it you have my appreciation – Jones is the definition of likeable. My travel / adventure partner and I are both journalists and had made contact with him prior to our trip so he knew we were coming, but over three days and several visits to The Turf we witnessed Jones treating all tourists like pub regulars.
Read More
It wouldn't be long before a new tourist would be divulging his or her life story to Jones and why they were drawn to Wrexham. What also makes Jones come off as 100 percent genuine is the fact he understands The Turf, his starring role in the documentary and the location of the pub to the Racecourse has put him in a unique position. And, rather than the spotlight shine just on The Turf, Jones wants it to shine over the entire city. Do you want the best fish and chips in the city, Jones will tell you Jones's Fish and Chips in the town center. You want to see some old castles, he will tell you Conwy and Caernafon are short drives away.
But on match day, The Turf is the place you want to be and even on the Tuesday we saw a match, the place was buzzing. It was truly a unique experience for two journalists who covet unique experiences.
Go Back
Highly recommend a burger and beer with Wayne Jones at The Turf.
The Turf Pub is the birth place of Wrexham AFC and is certainly a very special place indeed. You won't find a better atmosphere anywhere in town on a match day.
Wayne is The Turf, a very valued friend, an incredible host and landlord. It's an honour to know Wayne.
Since my first visit in 1980 learning to play darts and pool instead of typing The Turf has always been the centre of the community.
Always a warm welcome for fans wherever you're from, The Turf embraces you like a warm Welsh hug. A cwtch for all.
A great atmosphere, especially on match days when it's buzzing I just love it. Great staff, great prices and a great welcome. What more can you want?
The Turf, the football club and it's fans are intrinsically linked. Wayne is a wonderful host who goes out of his way to make everyone's visit special. The Turf is a very special place.
Where can Americans go in Wales and be welcomed as if we were family? The Turf, that's where. Wayne and Shelley, and The Turf customers, treated us like one of their own, and we didn't want to leave (we did stay until closing every day we were in Wales!).
From the amazing staff, to the great selection of drinks, to the warm welcome from everyone, our time at The Turf was the best time we spent in Wales. And a win from the team that weekend was just icing on the cake.
A pilgrimage to The Turf is a MUST for any fan of Wrexham!
I am Canadian, living in Toronto, and have attended two Wrexham games. In both cases, the time spent at The Turf was every bit as enjoyable as the game.
The staff is incredibly friendly and very open to hosting people from all over the world. The atmosphere and spirit inside The Turf, be it people that live locally and been coming for years or people from other parts of the UK or rest of the world is incredible.
Everyone is generous with their time and incredibly open to newcomers coming to their patch. We have met many new friends at The Turf and will fondly remember these two visits. Outside the bar, the friendly atmosphere remains and you can always enjoy a tasty burger while you wait!
Looking for a spot to soak up the atmosphere before a game at the Racecourse, celebrate a victory, or commiserate a defeat?
Look no further than The Turf pub in Wrexham. As locals of Wrexham, we've been visiting The Turf for years and there's always a friendly face to chat football with or just enjoy a drink in good company.
On matchdays, Wayne and his team go above and beyond to ensure everyone's visit to Wrexham, from near or far, is an unforgettable experience. Less than a mile from the centre of town, this famous old pub is the jewel in the crown!
The Turf is such an amazing place that feels like a second home to me. It's so amazing that I have my own brick there that is like a piece of me that always stays in Wrexham.
I don't think I've really spent any other time in Wrexham anywhere else. I get into town, check into my hotel. Head straight to The Turf. The only thing that would make it better was if I could sleep there.
I'll always go back, over and over again.
We are two guys who arrived to The Turf from Iceland and had the most amazing time. Wayne was so welcoming and gave us a lot of time to chat.
The atmosphere inside The Turf is like no other. On a match day, we stood in line to get in after the match and when we got in, the crowd was buzzing, there was singing and people cheering and A LOT OF PEOPLE.
But still the staff was so chilled and relaxed and the service was quick and the bartenders smiling and having fun. It´s definitely a must place to visit when you are in Wrexham and especially if you are there to see a football match!
We can't wait to get back.
Every time I've been to The Turf I've been met by the most welcoming and lovely locals who are so willing to embrace these humans that have fairly quickly embraced their town and football team.
Service is always with a smile and reasonably priced! What a welcome change.
I feel at home when I visit 'The Turf' and can't wait for my next visit.
The atmosphere in the pub is fantastic, and the welcome was as warm as you'd expect in wonderful Wales!
There's a great range of beers and Wayne and the team are super hosts who made us feel really welcome.
It's a really great experience and as the pub is right by the ground you really get to enjoy the pre-match build up with all the songs and the laughter.
If you're lucky like Paul Rudd, you might even bump into me and get a selfie!
My first trip to Wrexham was in November 2022 and of course that included a visit to The Turf. Everything from the staff at The Turf to the locals was perfect.
It's strange that you find yourself at home when you've never been there before! Everything you want from a pub you will find here, they even have an awesome jukebox so you can plan some decent tunes for a bit of Karaoke with your friends!
Since then we have been back 9 times, Wayne and the team are now stuck with us Canadians.
We traveled to Wrexham and headed straight to The Turf and it did not disappoint! It was so fun to see that it was literally next to the stadium!
The excitement for the upcoming game was palpable and the entire staff were super nice! The pints were perfect and on game day locals sat with us and became friends we will definitely stay in touch with!
Good luck Wrexham! Hope to be back one day!
My family enjoyed an amazing afternoon at The Turf. The atmosphere is perfect for watching a match and having a pint! Staff and patrons were friendly and welcoming.
Visiting The Turf is a must when traveling to Wrexham.
The Turf is more than we had ever expected, even after seeing it on Welcome to Wrexham. The people were so welcoming and genuine in their passion for the club and the community. It instantly felt somewhere I'd always wanted to be but didn't know I didn't know until I set foot in this wondrous public house.
Wayne and the team are approachable and happy to have a chat albeit it brief due to the overwhelming popularity.
One of the greatest things, largely due to the incredible engagement of the owners Rob and Ryan, is the opportunity to speak to fans that are homegrown but also from so far away like the US, Canada, France, Germany and more.
Read More
Thanks to the Wrexham Canada group we have been able to meet more people from Ryan's own turf and as a Brit who fell in love with a Canadian and then Canada it's so good to meet these amazing people in such a fantastic location.
Through them we were fortunate to have a brick on the wall which we are so proud of and gush every time we see it. The events The Turf have been able to put on such as the music before and after the Notts County game were so enjoyable. I couldn't give this testimonial without recognizing the food van outside.
The day they had poutine was one of the best days I've had because they did it right. I hope it becomes a regular on the menu so that everyone can try true Canadian street food. We cannot wait for next season! Up the Town!
Go Back
The Turf is absolutely the definition of a sports pub, 5 stars seems inadequate. The fun, passionate energy of true football fans was electric on the day I visited. The crowd could not have been more welcoming. And then behind the bar; great people working hard and doing their best to keep everyone's pint filled.
The pub is filled with flags, pictures and various sports memorabilia throughout, not to mention the location of all locations, being located at The Racecourse – unbeatable atmosphere.
With an excellent selection of beers to enjoy and full cocktail bar, it's everything you need. So get yourself there and remember to toast me with your 1st pint. I will definitely be returning soon and bringing some lucky friends with me.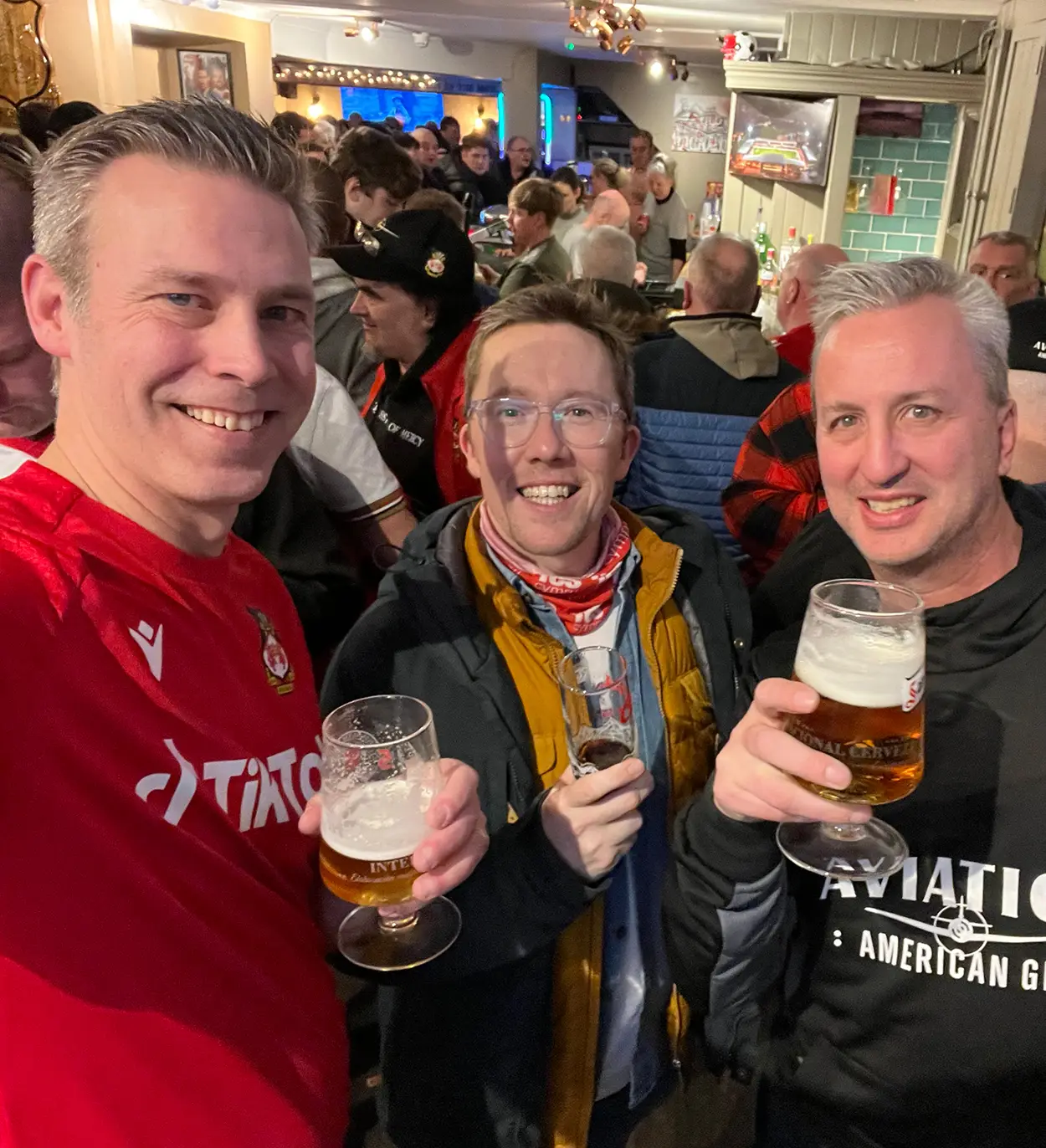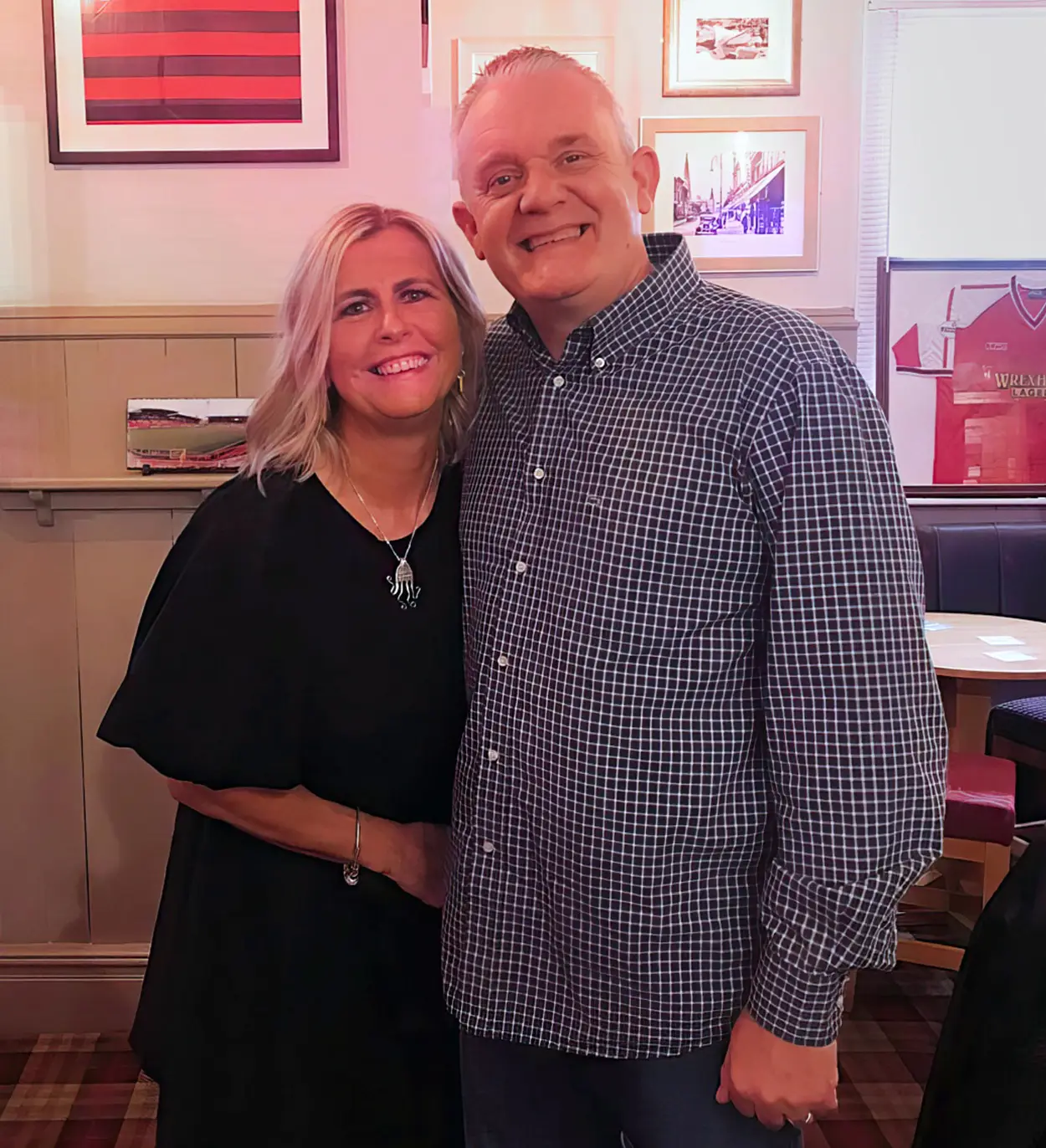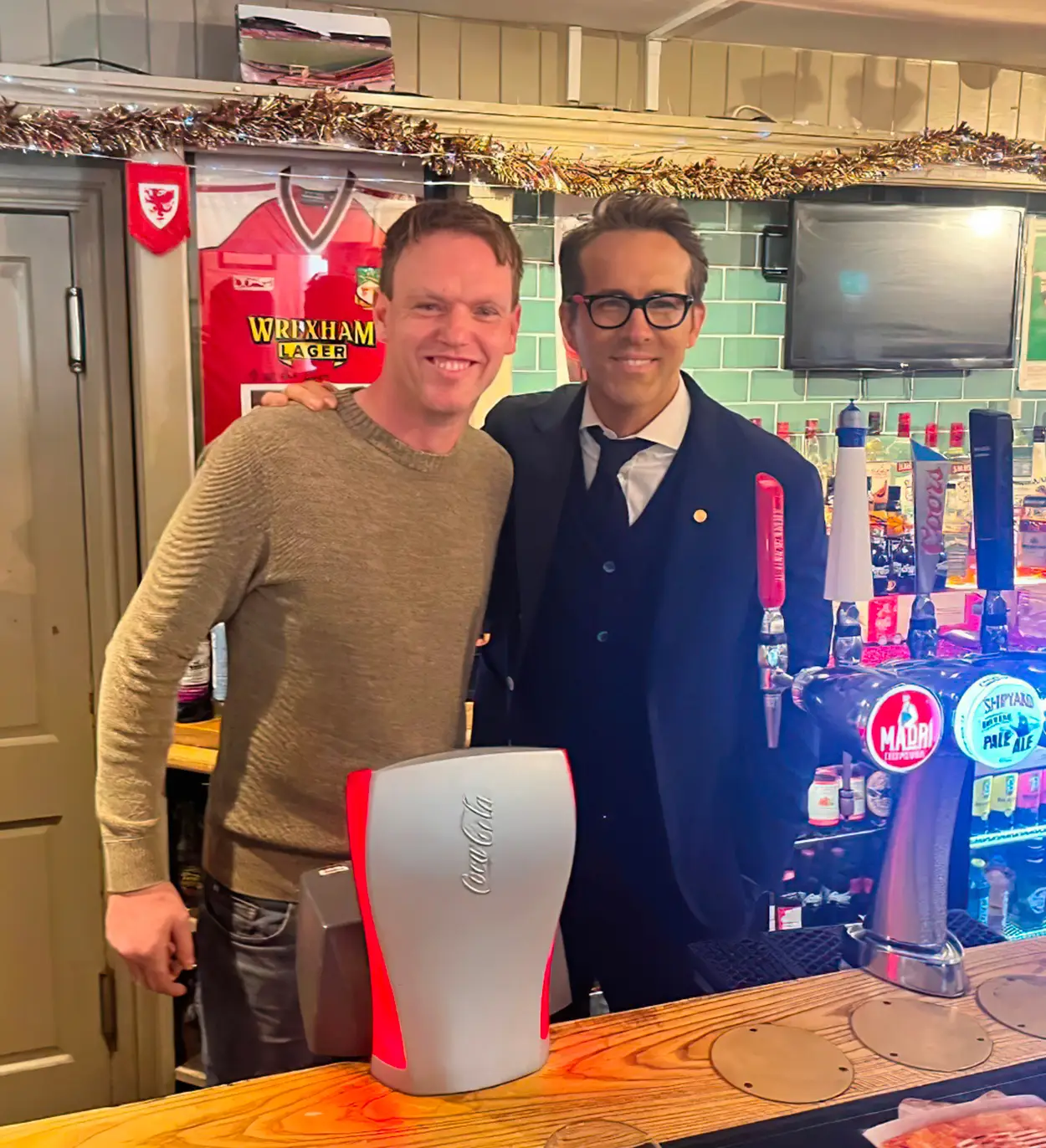 Ryan Reynolds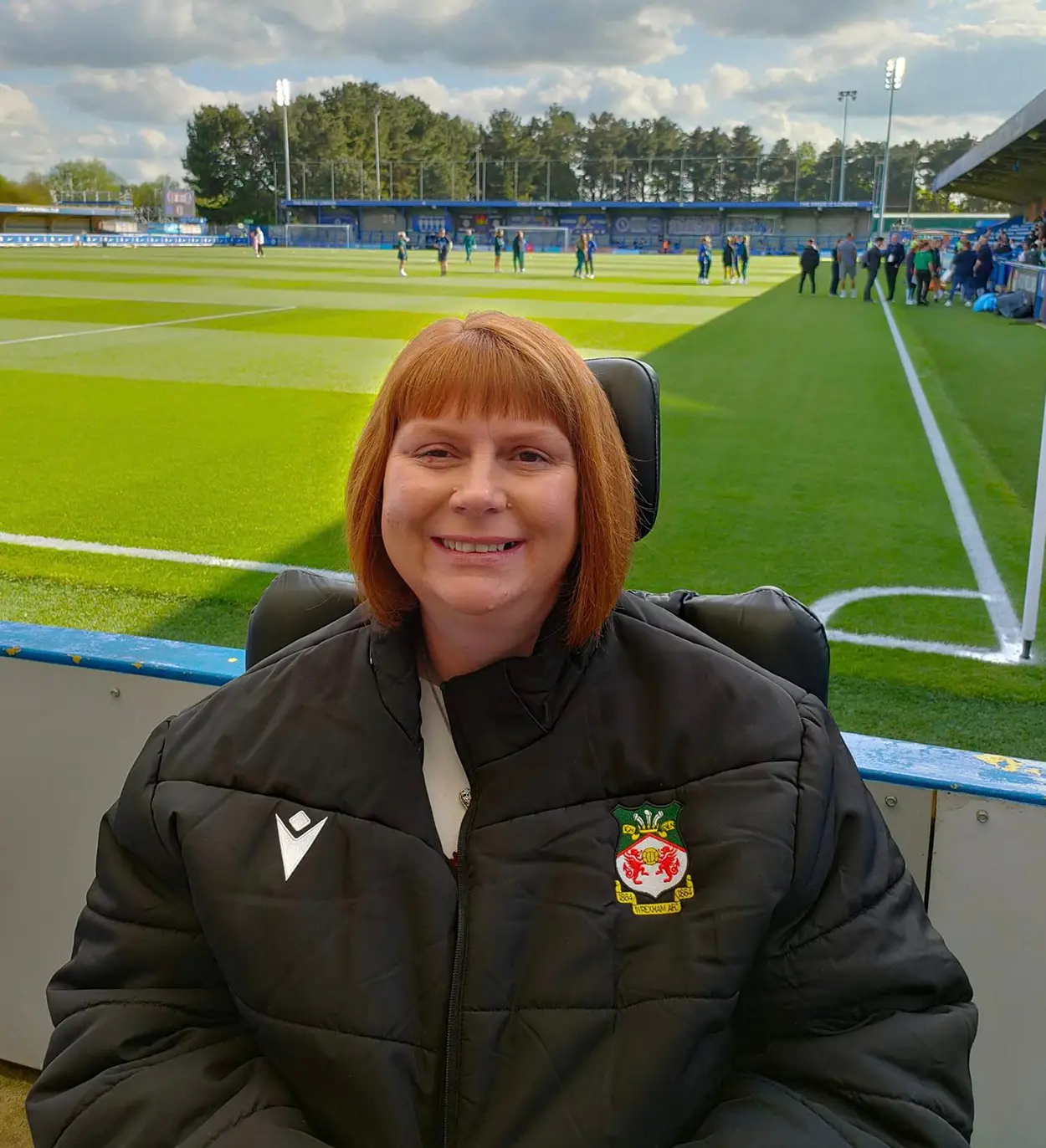 Kerry Evans
Wrexham AFC Disability Liaison Officer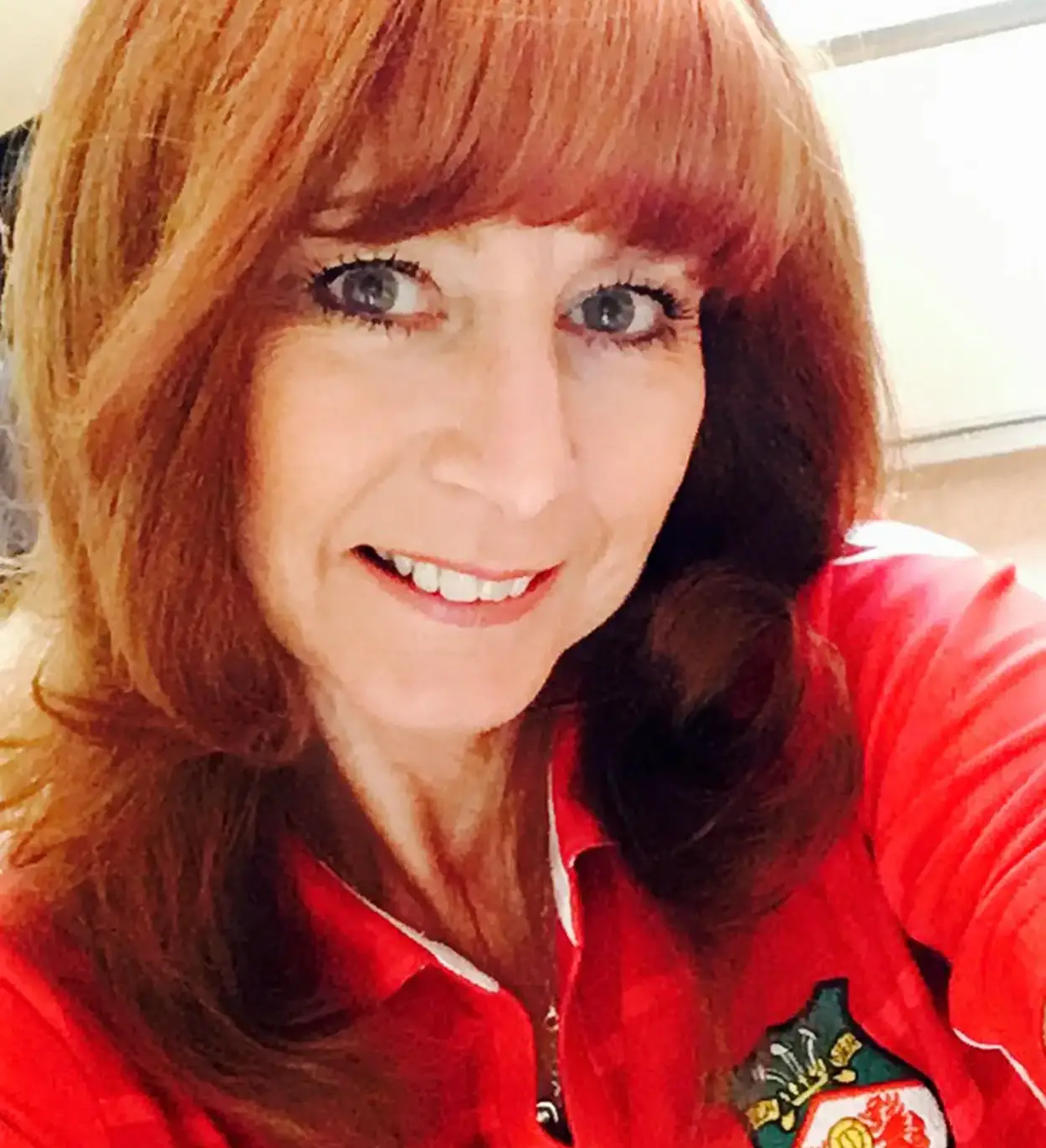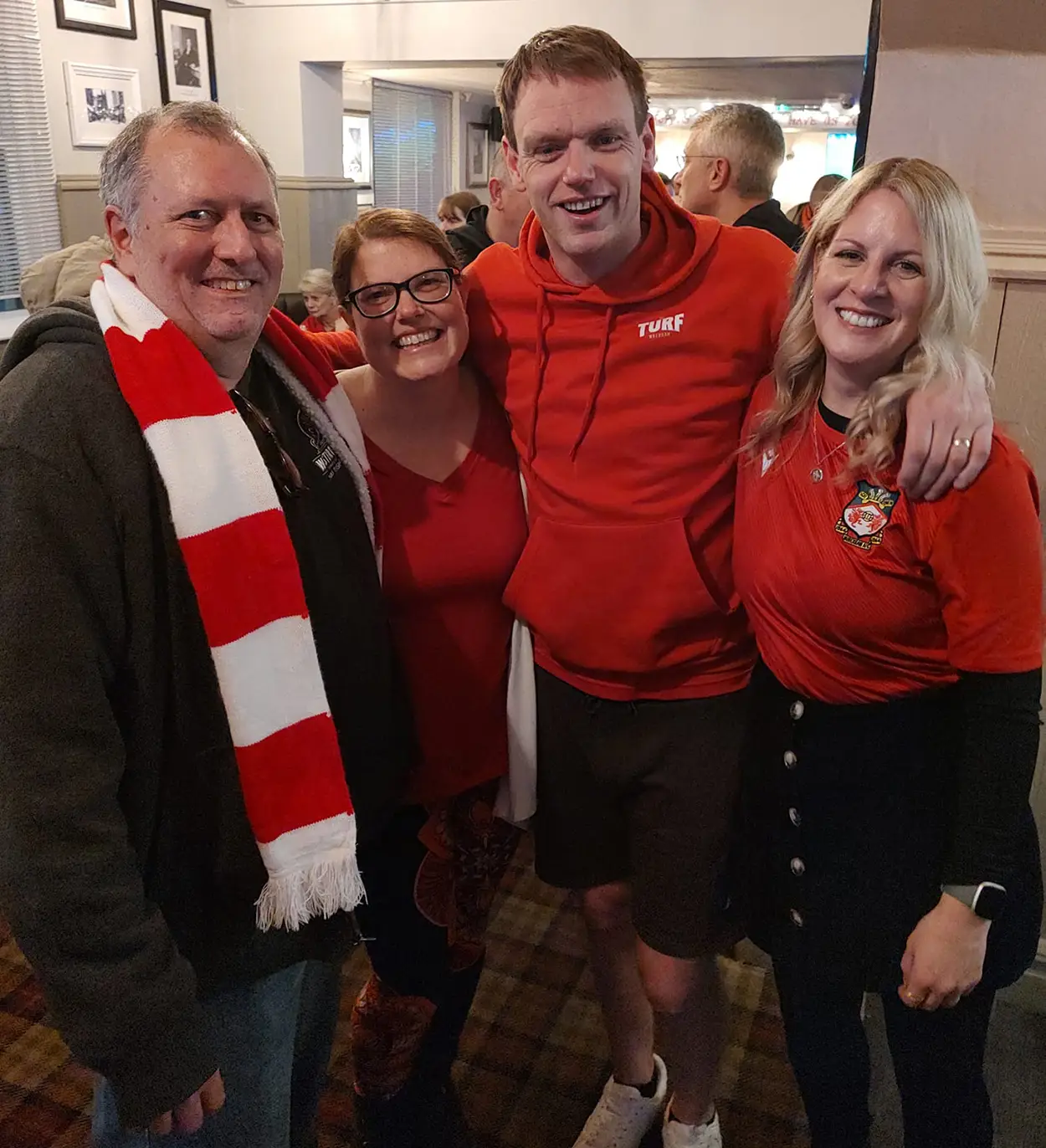 Kathy Brewer
North Carolina, USA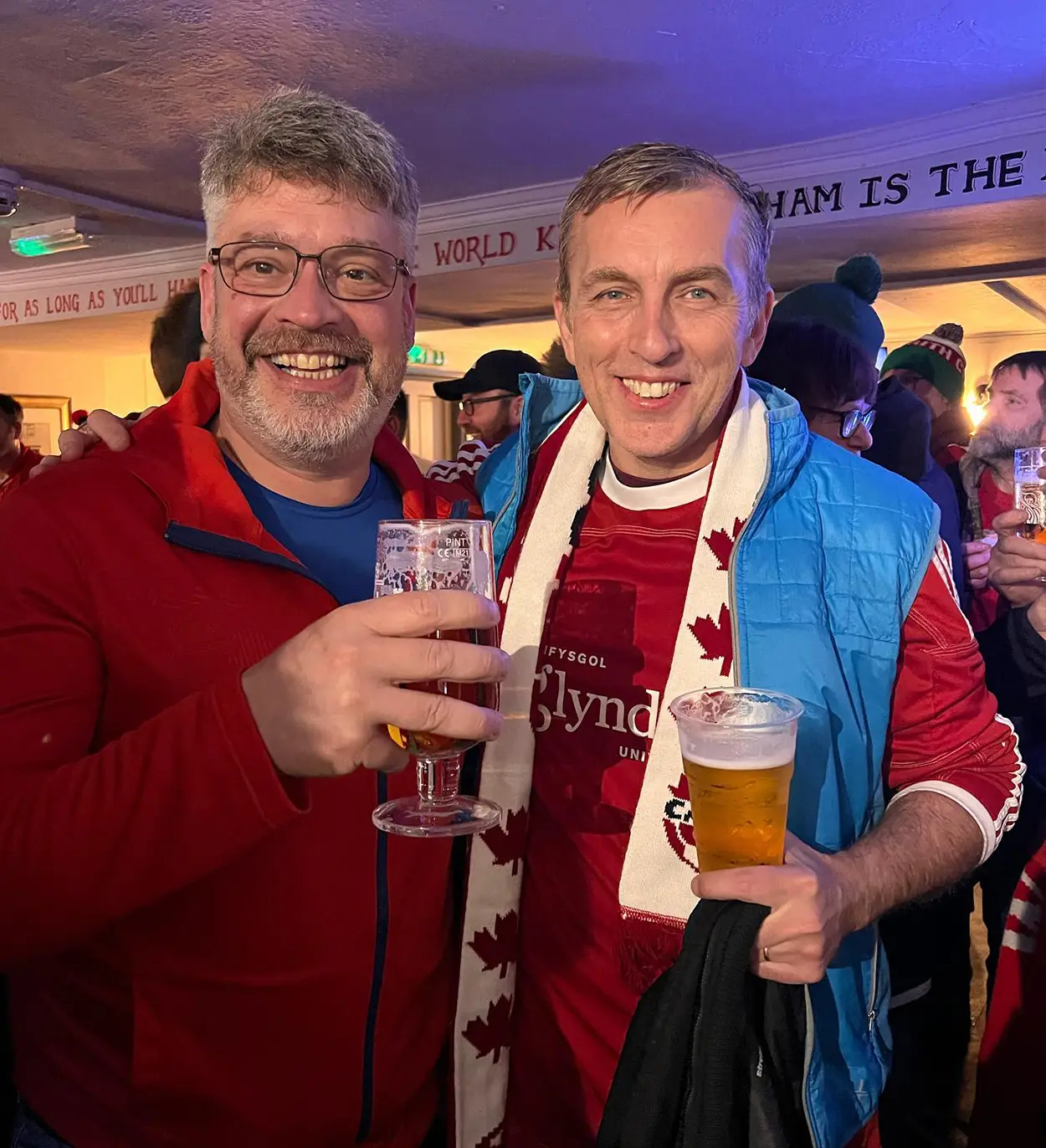 Myles Smith
Toronto, Canada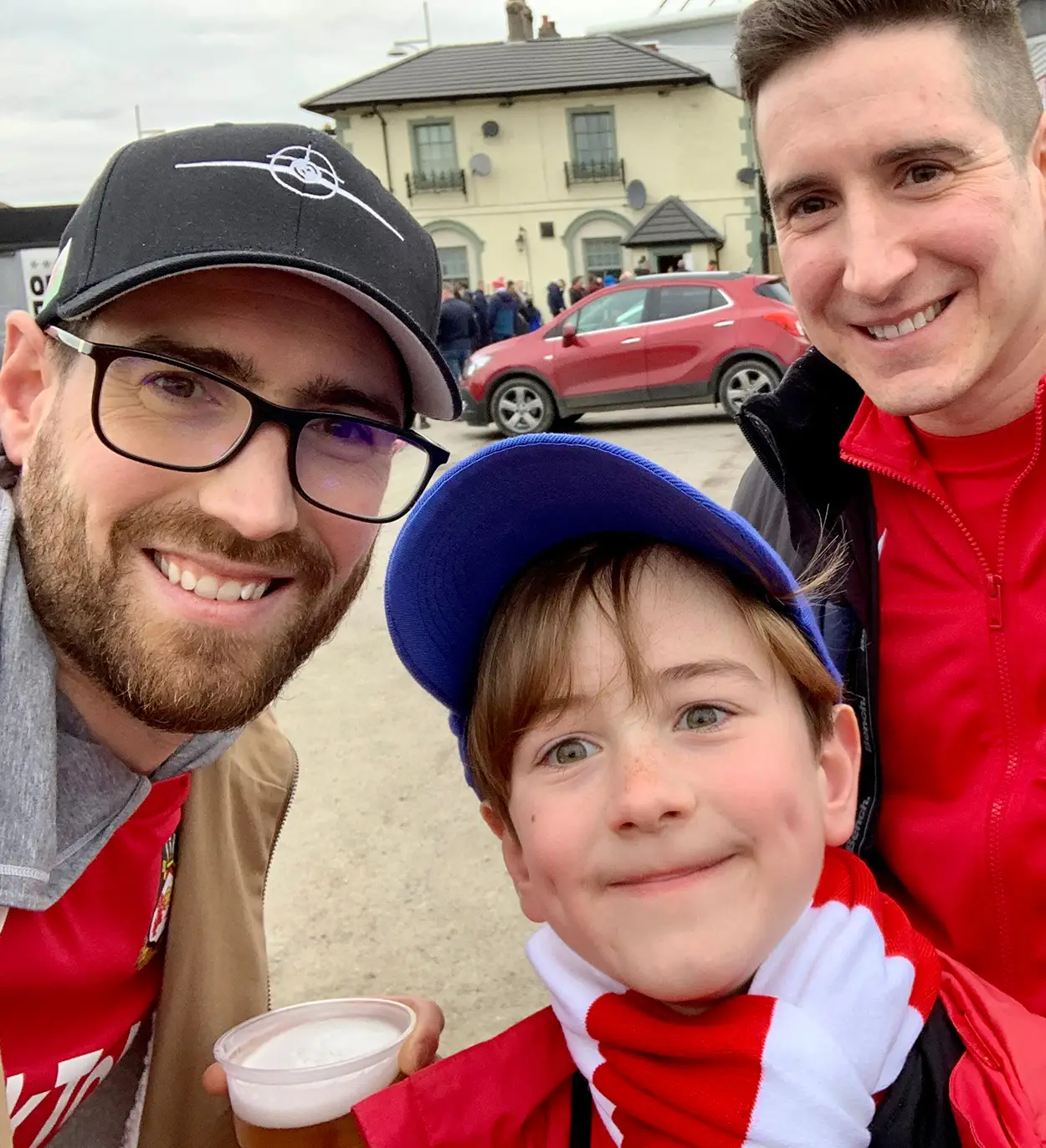 Adam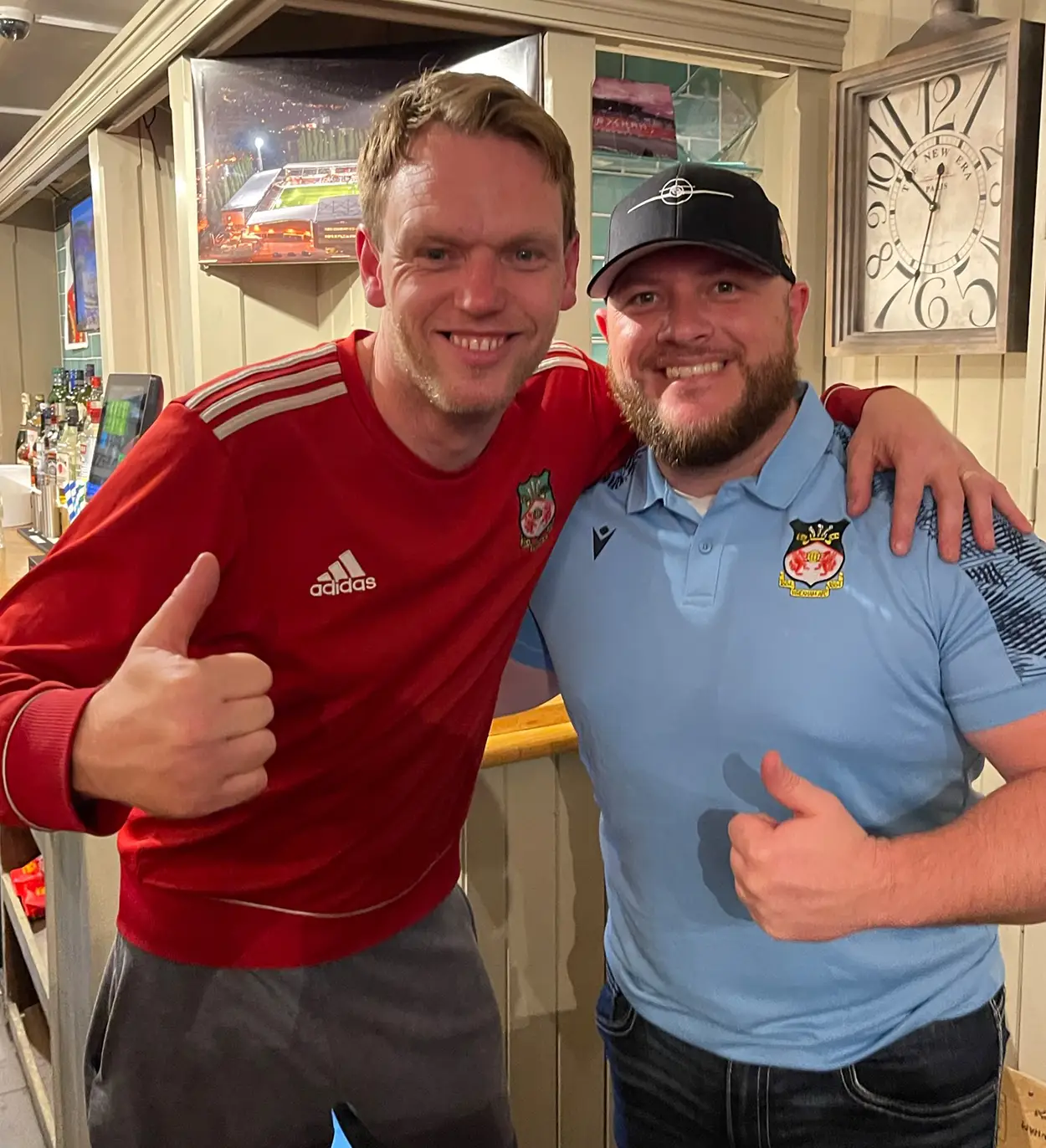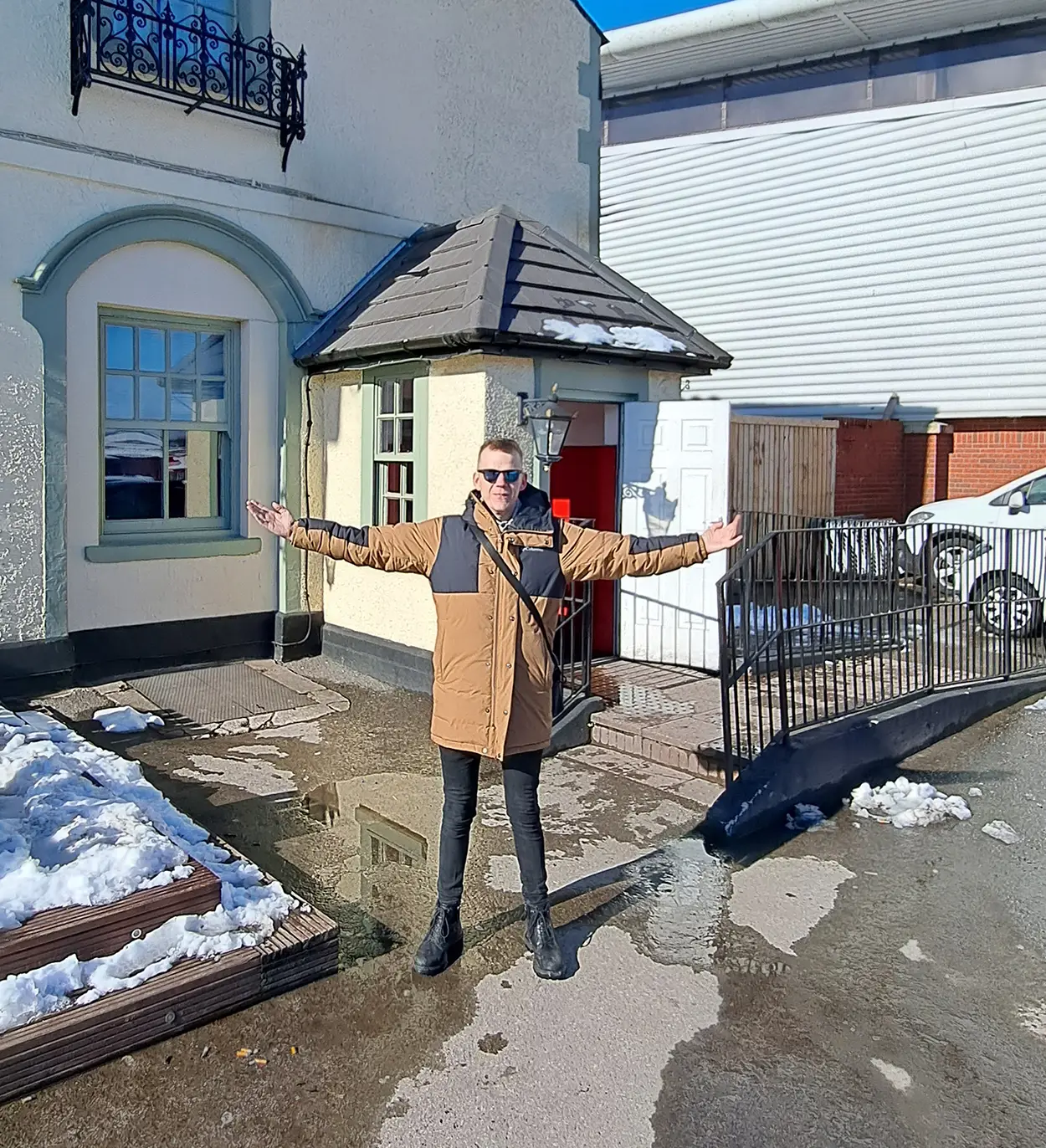 Matt
Founder of Wrexham Icelandic Supporters Club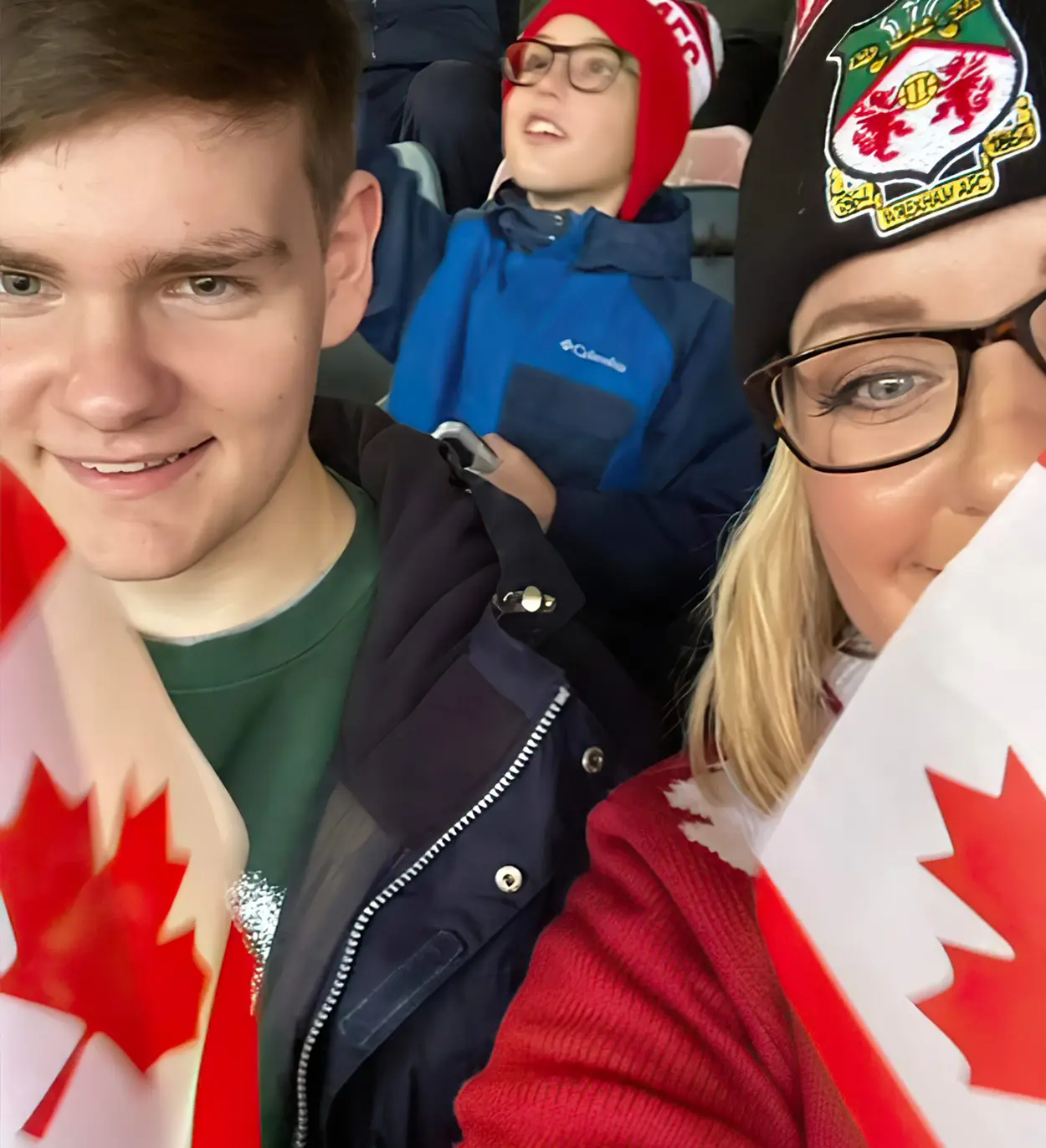 Kassi
Telford by way of Toronto, Canada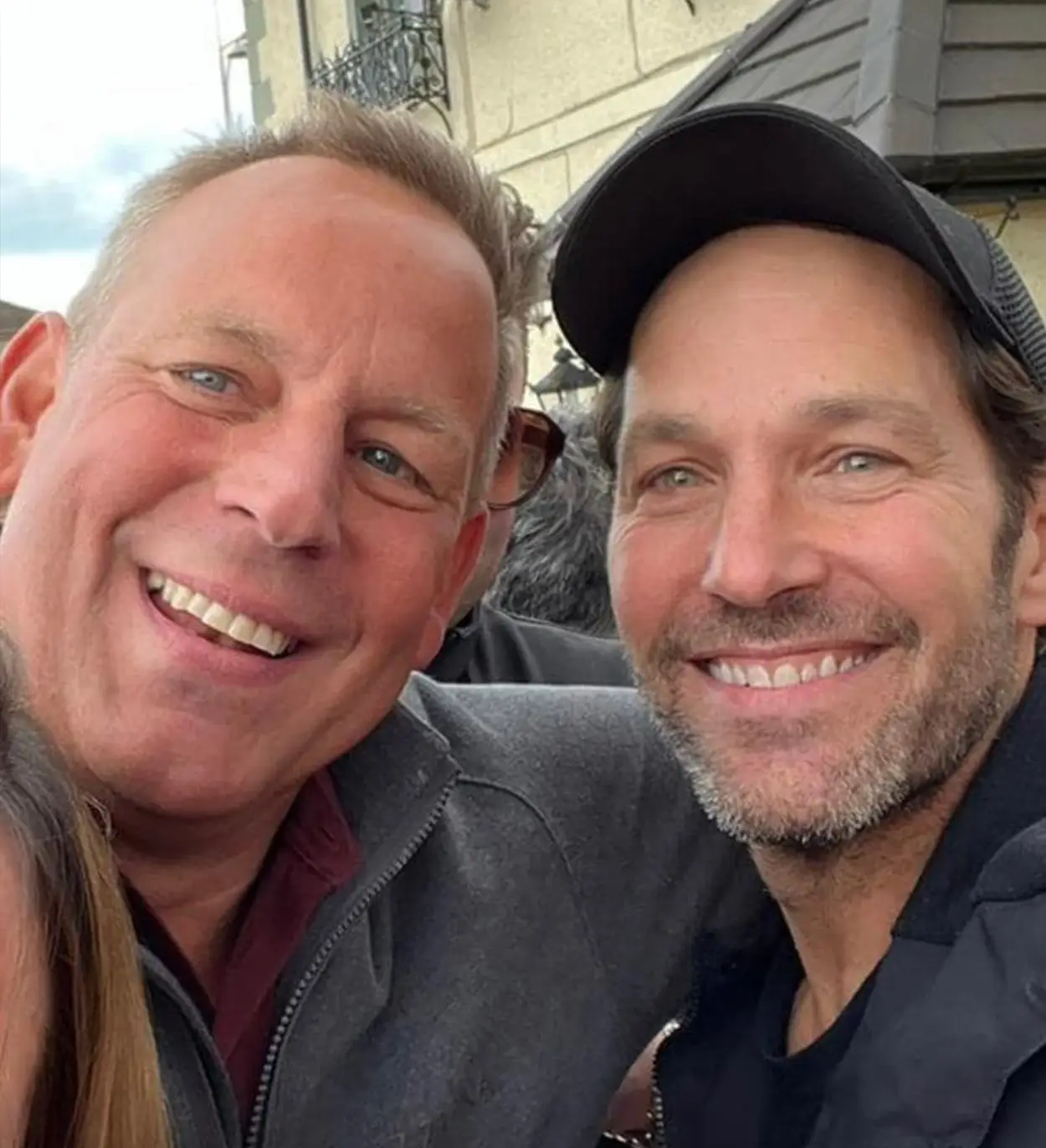 Jason Caine
Northumberland, UK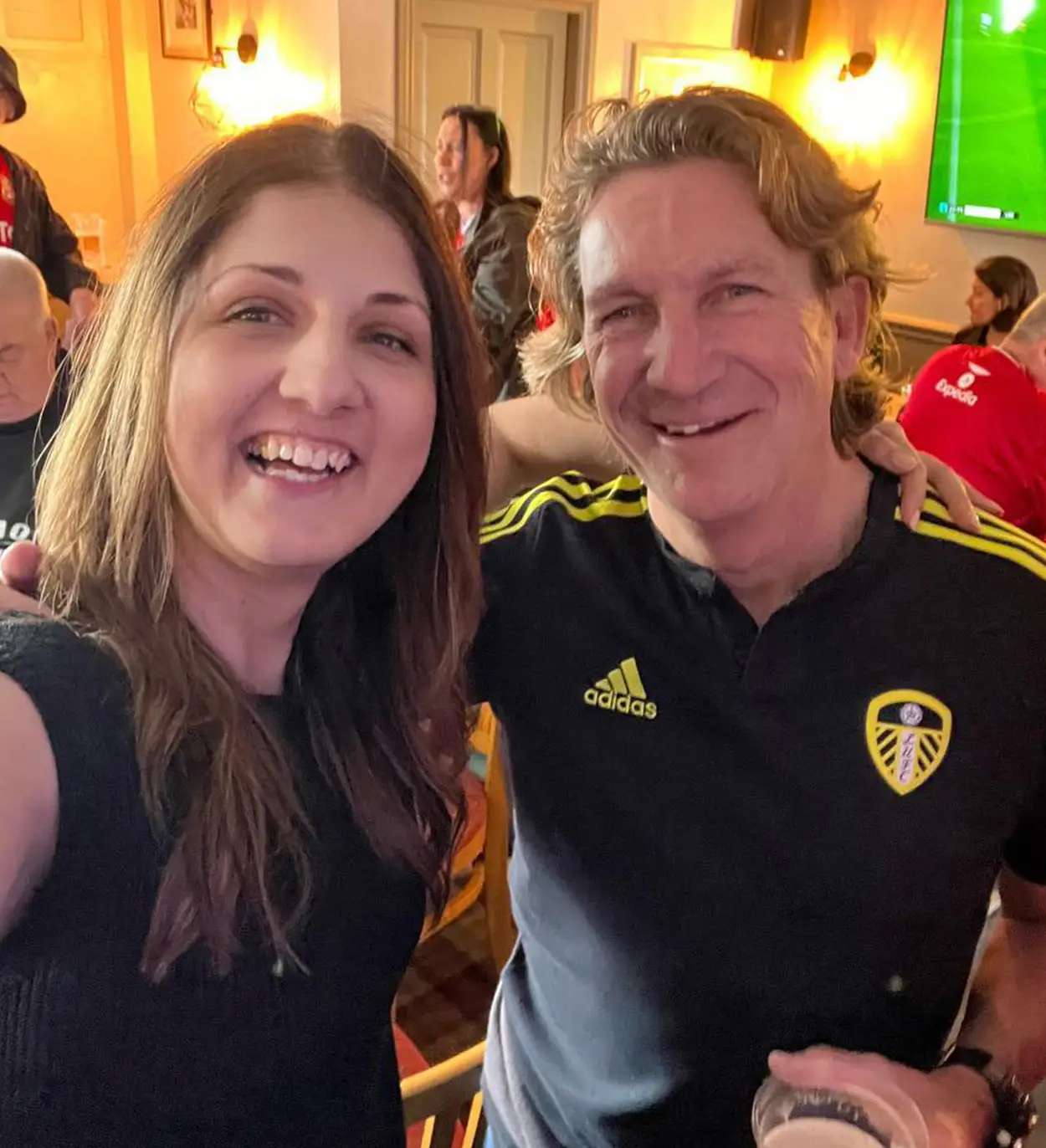 Sandy Domingos-Shipley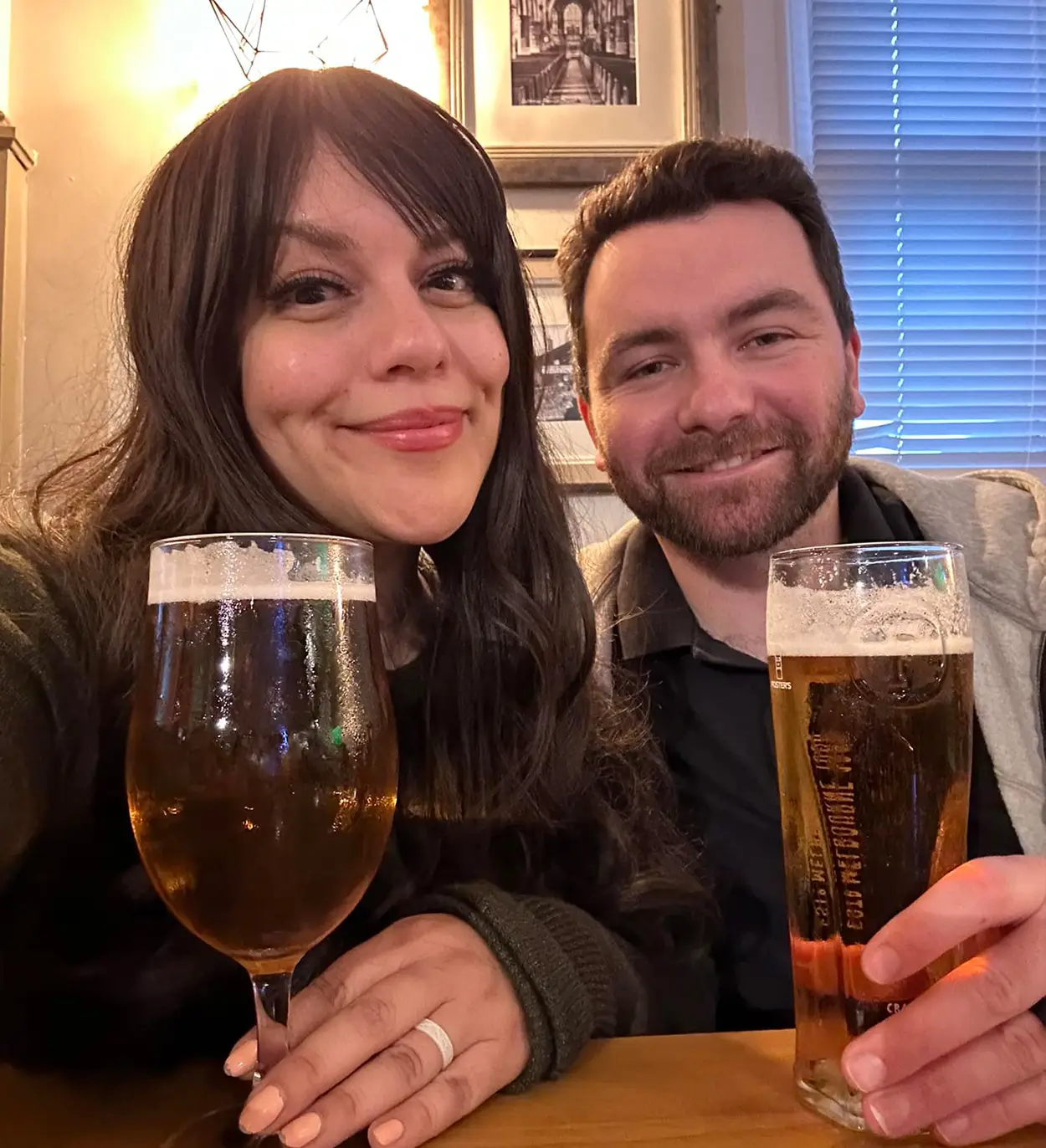 Stephanie & Mark Shipley
Orange County, California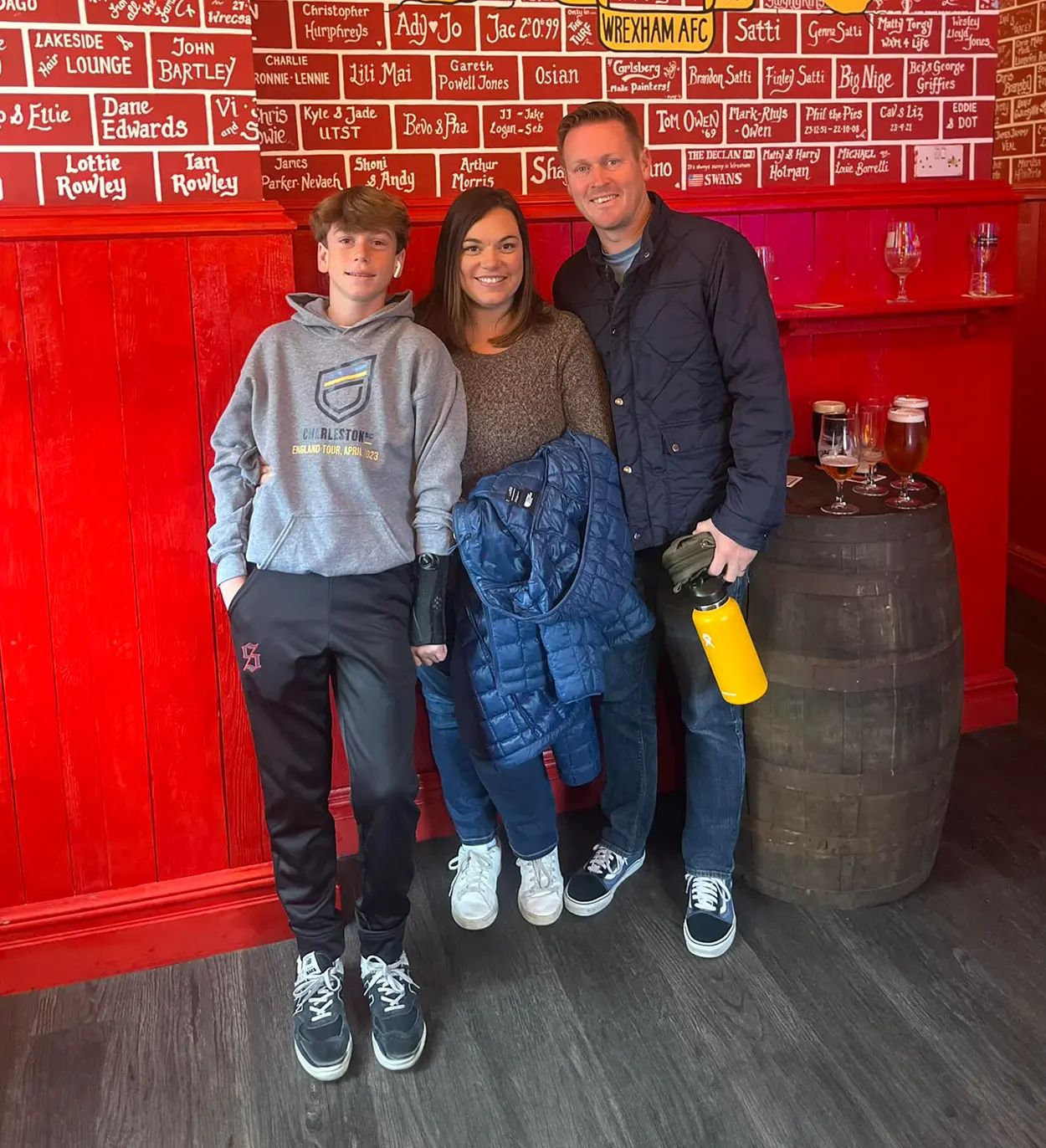 Scott & Amber Ferguson
Charleston, South Carolina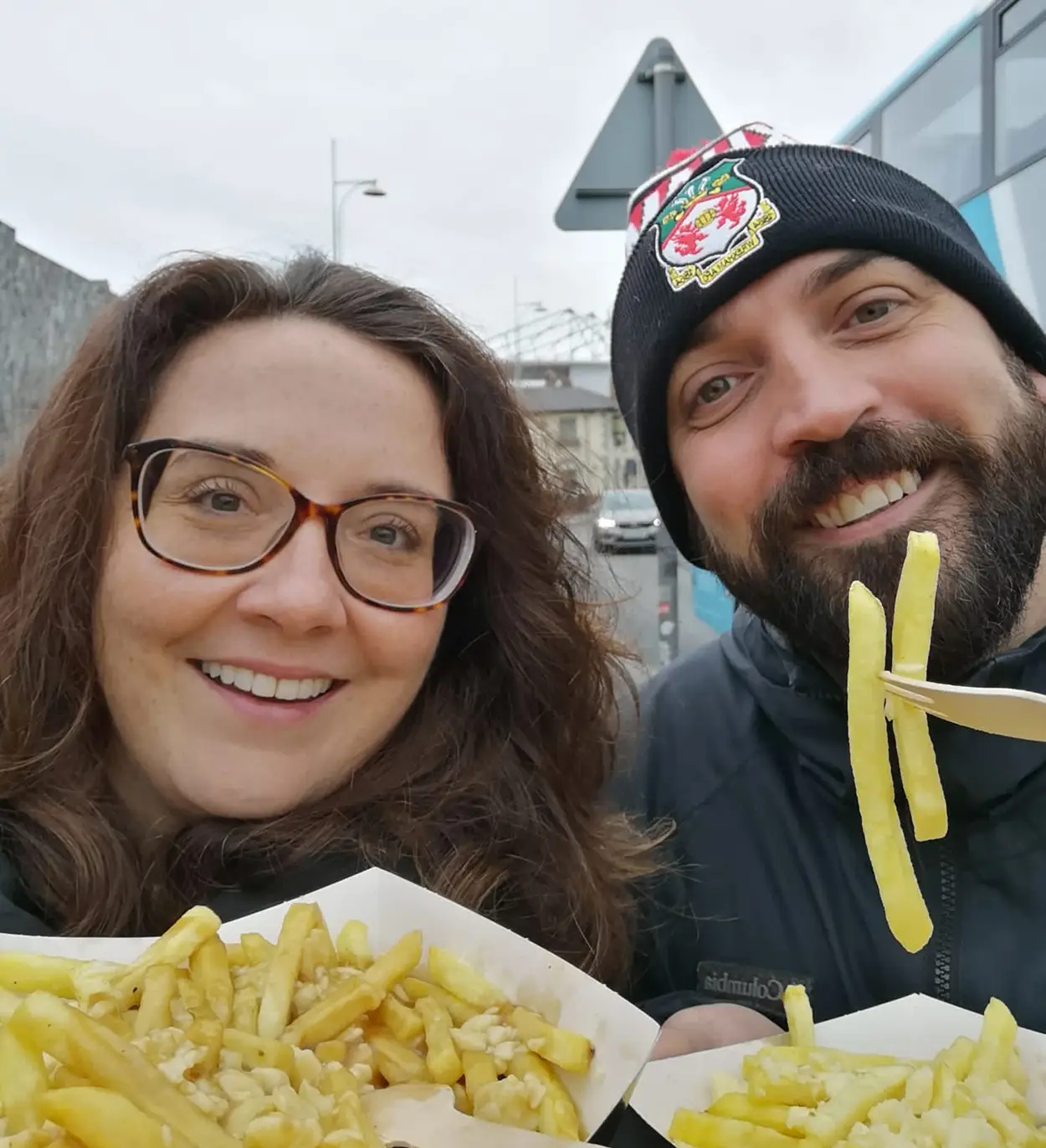 Marion & Steve
Canada & Birmingham UK